Creepy Creek Haunted Trail Stirring Up Some Serious Scares this Halloween Season!
Home » Blog » Mississippi Haunts: An In Depth Look
October 4, 2017 By Haunt News & Press Releases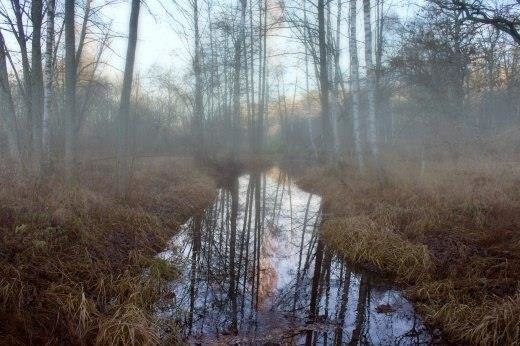 Come see what's going on in these quiet, little woods...
MississippiHauntedHouses.com recently sat down with Heath Pannell of Creepy Creek Haunted Trail, to discuss what's new at Creepy Creek Haunted Trail for the 2017 Halloween Season! Located in Booneville, this attraction is located in Dry Creek Bottom at the old Dry Creek School House. The event doubles as a fundraiser for Dry Creek Fire and First Response - what better way to enjoy some scares than to benefit a great cause at the same time?!
What's new at Creepy Creek Haunted Trail for 2017? Do you have any new rides, attractions, or special features that Haunt Seekers should know about?
Creepy Creek is adding new scares at every turn. Repeat visitors will remember the Asylum inside the building. We are expanding the inside to use more space, featuring the possibility of an escape room! Ticket and staging areas will be held in our outside tent area, we have brought back a concession area and much more!
What are you most excited about for the 2017 Halloween Season?
I am most excited about the new characters that have made way into our haunted woods. We have increased staffing for actors and the woods around Creepy Creek will be flooded with new haunts.
What differentiates Creepy Creek Haunted Trail from other local haunts in Mississippi?
We try to add a personal touch to our attraction. We let the natural surroundings get our visitors "in the mood." Being a fundraising attraction, our budget is often limited, so we put a lot into our acting ability to give the visitors their money's worth! You won't see tons of animated machines doing our job, we get out there and get it done with our people! Also, and interesting part is that our attraction is historic..built in the 1930's.
How long has Creepy Creek Haunted Trail been in business? Can you tell us a bit more about Creepy Creek Haunted Trail's history?
Creepy Creek started as an upstart fundraising effort supporting Dry Creek Fire & Rescue. The first year was so successful that we have continued and this is now our third year. We would have never imagined the response it has gotten, a lot of that response stemming from this website!
What's your favorite experience since opening Creepy Creek Haunted Trail?
Probably my favorite experience was a young man that came to the attraction with medical issues. He suffered from some form of anemia, but badly wanted to go through the attraction. I notified our medical personnel and he went in. Towards the end of the tour that year, we had a horse that ran across a field towards the group, then made a sharp turn back into the woods. Well, the young man passed out. We activated the medical response, and when he came to he informed us that he planned on going through again and would be back to see us this year. The bravery of kids never ceases to amaze me.
How long is a typical haunt experience at Creepy Creek Haunted Trail from start to finish?
Normally our haunt lasts about 30 minutes, but will more than likely increase to about 45 minutes this year.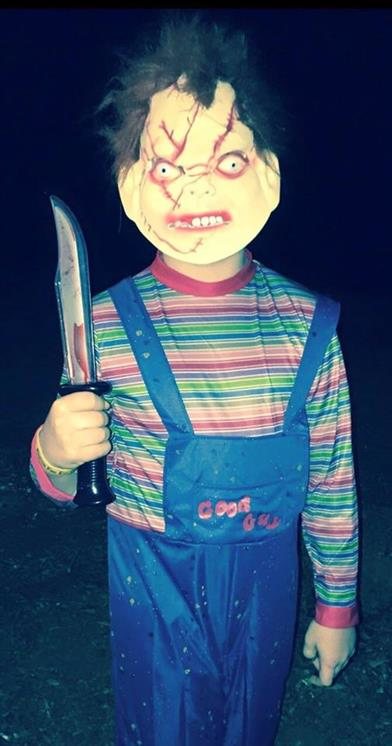 On a scale from 1 to 10, how scary would you say Creepy Creek Haunted Trail is? Why?
Without "tooting my own horn" I'm going to give it a ten. Why? Cause when I go through after closing and make sure all lights are off, etc. I am scared myself! LOL. I feel the atmosphere around our haunt benefits us. It's dark in that bottom...really...really...dark.
Does Creepy Creek Haunted Trail's property have any real haunted history? Do you have a spooky encounter you'd like to share?
I haven't heard of anything. The building was a one room school house built in the 1930's. In the hallway are pictures of former students on the wall in black and white. Who knows if one of those lost souls wants to revisit his or her old school house?
What inspired you to open up a haunted attraction? What's your favorite part of the business?
As I mentioned earlier, we opened as a fundraiser for our fire department. After starting we found that: #1. It is a LOT of work. #2. It was a LOT of fun! We love giving people something to do during the Halloween season. We have a blast getting everything together, and love scaring people.
How has new technology (i.e. animatronics, special props, etc) helped you to enhance Creepy Creek Haunted Trail?
We don't use a lot of animatronics. However, this year we are experimenting with sight, feel, and sound, which I feel are the main components on scaring people. When you visit our haunt...you might smell burning flesh, ....walk through the graveyard and you might smell the musty smell of a swamp....and just what was that sound....?
Can Creepy Creek Haunted Trail accommodate large groups? How many people can experience Creepy Creek Haunted Trail together as a group?
We can accommodate large groups, and have a policy of staying open until everyone goes through as many times as they want. That being said, we like to keep our groups to four or six people each, but will accommodate as much as safely possible.
Does Creepy Creek Haunted Trail offer any special deals, discounts, or coupons?
Keep your eyes on our Facebook page and right here on MississippiHauntedHouses.com for updated coupons and events.
Anything else you'd like to let us know about Creepy Creek Haunted Trail?
Just know that we are operating for a great cause, we want this to be the biggest year ever, and we hope to see you there!