The Dark Zone Haunted House is Stirring Up Serious Scares this Season!
Home » Blog » Mississippi's Best Weekend Events, Mississippi Haunts: An In Depth Look, MississippiHauntedHouses.com News and Updates
August 29, 2019 By Haunt News & Press Releases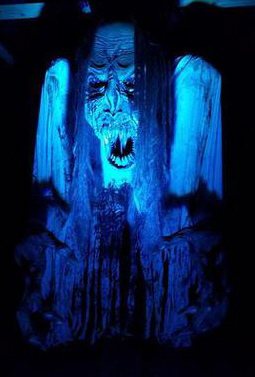 The Zompire Awaits!
MississippiHauntedHouses.com recently sat down with Pat Pipitone of The Dark Zone Haunted House, to discuss what's new at the haunted attraction for the 2019 Halloween Season!
What's new at The Dark Zone Haunted House for 2019? Do you have any new rides, attractions, or special features that Haunt Seekers should know about?
We strive to give our visitors new and exciting features every year. You never see the exact same Haunted House.
What are you most excited about for the 2019 Halloween Season?
Our advancements in Social Media and our new Online Ticketing system.
What differentiates The Dark Zone Haunted House from other local haunts in Mississippi?
We are a genuine professional style Haunt outdoors and indoors. If you aren't scared in our Haunt you probably have your eyes closed.
How long has The Dark Zone Haunted House been in business? Can you tell us a bit more about The Dark Zone Haunted House's history?
The Annual Haunted House in Brandon started over thirty years ago at Hilltop Painted Acres and when the owner of Hilltop sold her property thirteen years ago we moved the Haunt to The Exchange Club of Crossgates MS Youth Sports complex where it now resides. This is our fourteenth year at our Park location. We feature professional Computerized Pneumatic Animatronic Props, along with light, sound and tactile attractions to scare and amuse our visitors. Our actors are all volunteers that delight at hearing the shrieks and screams coming from our visitors. And the net proceeds of our annual fund raiser event go to support charities and all of our local and national Exchange Club Projects.
What's your favorite experience since opening The Dark Zone Haunted House?
Answering the same questions year in year out.... Is it Dark inside? It's called the Dark Zone YES its dark in many places. Is it scary?? It's a Haunted House YES, it's scary!!
How long is a typical haunt experience at The Dark Zone Haunted House from start to finish?
Approximately 20 minutes or as we always tell our visitors it depends on how fast you can run!
On a scale from 1 to 10, how scary would you say The Dark Zone Haunted House is? Why?
It ranges from a 7 to a 10 because we try harder than most other so called Haunts. We redesigned our Haunt annually adding, changing, tweaking our Haunt to make a visit to our Haunt a memorable Event.
Does The Dark Zone Haunted House's property have any real haunted history? Do you have a spooky encounter you'd like to share?
We hear noises in the Haunt even when it isn't Halloween season. Is it real ghosts checking out the scenes or maybe just the wind? Personally, I hope it's the wind!
What inspired you to open up a haunted attraction? What's your favorite part of the business?
This has been the focal point of our Exchange Club of Crossgates fund raising efforts for what at this point seems like a lifetime and it's a lot more FUN than barbecuing chickens, sponsoring dances or cooking pancake breakfast meals.
How has new technology (i.e. animatronics, special props, etc) helped you to enhance The Dark Zone Haunted House?
It has made us a semi-professionally produced and directed event.
Can The Dark Zone Haunted House accommodate large groups? How many people can experience The Dark Zone Haunted House together as a group?
Approximately 10 but smaller groups get the best scares.
Does The Dark Zone Haunted House offer any special deals, discounts, or coupons?
No, because our $10 admission is already the best scare for the bucks anywhere around here.
Anything else you'd like to let us know about The Dark Zone Haunted House?
Yes, please visit our Haunted House and help us support our Exchange Club Charities, Foundations and local Exchange Club Projects.